We are honored and excited to have Roseann Higgins and SPIES Single Professional Introductions for the Especially Selective be nominated its third year in a row for 2015 Best Matchmaker by two of our newlyweds!
Watch 2014 Best Matchmaker Winner Roseann Higgins of SPIES Live Interview by Brittany Dawn Brannon at AZ Foothills Magazine Best of Our Valley Gala.
Newlyweds Marry 1st Match and Nominate Roseann Higgins and SPIES Best Matchmaker 3rd Year in a Row with 2015!
Matchmaking is essential in finding love in a big city like Phoenix – currently ranked sixth largest city in the US.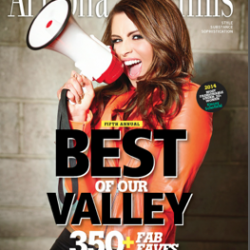 There were 4,000 nominees in 400 categories for the fifth annual Best of Our Valley Awards. Arizona Foothills magazine had 1.5 million views.
Roseann Higgins and SPIES received 96% of the votes cast for Best Matchmaker.
Many thanks to our newlyweds for the Best Matchmaker nomination!
Without mentioning any names of the former singles who were introduced or giving enough specifics to uncover their private identities, here's an abbreviated description of how they were matched by top matchmaker Roseann Higgins.
After meeting with both of them several times, getting to know them in great detail, Roseann suggested them to each other ahead of anyone else. A Scottsdale CEO says Roseann has laser intuition on which two people should meet. Based on results, he's right. The day he came in to preview his lineup of attractive, fit, intelligent, financially self-supporting, emotionally healthy women, Roseann had pulled 21 stellar possibilities to show him. But why waste time when she thought she just might have something he'd never experienced before. A girl who she thought would be a breath of fresh air to a guy who shared everyone in his life wanted him for his money. Roseann doesn't reveal how much any clients make. It's not anyone's business. They have enough to hire her and to not have run out of money to date.
This particular girl Roseann had in mind was/is beautiful and vivacious. She might be blond and blue-eyed or brunette and brown-eyed. She lights up a room. She didn't need him for his money and she had never dated anyone as successful him. When Roseann shared the girl's background with him, he said it sounded like his own background. That's not an accident. It happens quite frequently with Roseann's near perfect matches. But it's more than just an online dating algorithm of like profiles matching. It's a gut feeling she gets that tells her she should investigate this couples' compatibility and chemistry. They both found each other very attractive and even more so, in person. It began at the Montelucia Resort in Paradise Valley.
They became the 63rd and 64th persons who have fallen in love with the very first person Arizona's Best Matchmaker Roseann Higgins found for them – each other!
Roseann Higgins and her company SPIES have earned being voted Best Matchmakers!
We hope you'll vote for us this year, every day if you can. We'll post a voting link here and on: www.twitter.com/roseannhiggins and
https://www.facebook.com/RoseannHigginsMatchmakerAndRelationshipExpertSPIES .
For the actual BEST OF OUR VALLEY 2014 News Feature:
Video provided by Gianna Nicole Productions. As seen on Bravo TV, Spike TV, My 45, ABC TV 15, New York Fashion Week. www.giannanicoleinc.com